Happy Spring Fling! I'm so excited Kara invited me to be here today. I'm Amie, and I have my own little corner of the internet called
Kitty Cats and Airplanes
.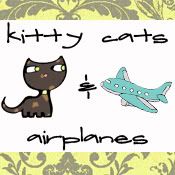 When I graduated college I suddenly found free time on my hands, so I rekindled my life long love for arts and crafts. Too bad since then I've gotten a job! Luckily the hubs is ok with my addiction. :)
Decorate my home (
button frame
)
But my favorite thing to make is jewelry. (
Button bracelet
) I sell my jewelry on both
Etsy
and
whoopdwhoop
.
I also post tutorials every Tuesday, recipes every Friday, and a ton of other fun crafty things.
Now I don't know about you, but when I think spring, the first thing I think of is flowers. Big, bright, beautiful bouquets of flowers. (Say that five times fast!) So with the theme of Spring Fling, I knew I had to do something with a floral inspiration. Then I threw in a few of my favorite things: jewelry, lace, and pearls! I ended up with....
Non fraying lace with a floral design
Embroidery scissors
Two eye pins
Two freshwater pearls
Two ear wires
Two jump rings
Round nose pliers
Got it?
here
.)
Happy spring! Thanks for having me Kara. :)