That's right!
Today is Mine for the Making's 2nd birthday.
Or blogoversary.
Two years ago I finally decided to click the publish button and I am SO glad I did.
Why am I so glad, you ask?
I have learned so much more about myself just from blogging. I have become a more creative woman. I have become a more hands-on, do-it-yourself wife. I have become a better cook and home-maker. I have found, shared, and been inspired to create teachable moments with my daughter. I have shared my creativity with others and they have shared their talents with me. I have made so many special friendships. Yes, REAL friendships with REAL women. Behind a great blog is a great woman, just remember that ;)
I would have NEVER guessed that people would actually click the follow button on my lil' blog-a-roo 2 years ago.
I started this as a way to share what I
love
. A little place to keep record of the things I
make
and
do
. A place to record special
family moments
. A place I feel safe to
share my passion to create
and make things myself.
I want to
thank you
,
lovely readers
, for your sweet comments, emails, and pins. You inspire me to keep creating. You inspire me to keep clicking on the publish button.
So, to thank you, I have invited some of my very favorite shops to participate in a week of giveaways just for YOU next week. Aren't they sweet?!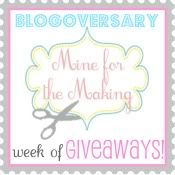 So be ready to party next week, my friends!
Here's to another year of moments that turn into fond memories, and inspiration that turns into something creative.
I
love
this blog. I
love
my readers. I
love
my sponsors.
Thank you for reading my lil' blog-a-roo.
This place wouldn't be the same without you, and I wouldn't be the same without this blog.